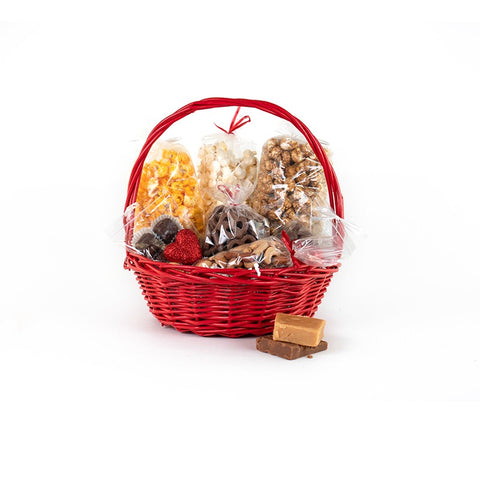 Del's Signature Medium Red Gift Basket
Checking local availability
Whatever the occasion, our signature red gift basket fits the bill. It's chock full of some of our biggest sellers from caramel corn, cheese corn and seasoned popcorn to chocolate pretzels, fancy mixed nuts, fudge and chocolates. Receiving one of these baskets may be a reason to celebrate all by itself.
Contents: 8 oz. Caramel Corn, 3 oz. Cheese Corn, Small Seasoned Popcorn, 1/3 lb. Milk Chocolate Pretzels, .25 lb. roasted and salted Fancy Mixed Nuts, 1/3 lb. assorted Chocolate and Peanut
Butter Fudge, 4 pieces Milk Chocolate Caramels and 3 pieces Milk Chocolate Caramel Pecan Patties.
Basket Dimensions: 12" x 4 ¼" x 14″
Serves: 2-4